Colville 2020 Public Listening: Sahtú Ragóɂa (Hunting Laws) and Approaches to Wildlife Harvesting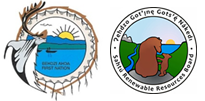 Home
Colville Lake, January 21-23, 2020
The Colville 2020 Public Listening Session is part of a larger five-part Hearing proceeding to answer the question, "What is the most effective way to conserve caribou?" The Colville Session is focused on the topic Sahtú Ragóɂa (Harvest Law) and Approaches to Wildlife Harvesting. Co-hosted by the Colville Lake Renewable Resources Council and the Ɂehdzo Got'ı̨nę Gots'ę́ Nákedı (Sahtú Renewable Resources Board), the Session took place on January 21-23, 2020 in Colville Lake.
Colville Lake's caribou plan and harvest law, Dehlá Got'ı̨nę Tseduweh ʔəde Ɂahɂah, were available for consideration on October 21. Submissions were invited of other proposals and/or presentations from Sahtú Organisations, governments and the public on the following questions:
What is the current status of caribou populations in the Sahtú Region, including ɂedǝ/ɂekwę́ (Bluenose West and Bluenose East barren-ground caribou), shúhtagoɂepę́ (Northern Mountain caribou), and tǫdzı (Boreal Woodland caribou)?
What is the most effective way to regulate harvesting of caribou and other wildlife?
What are Indigenous systems for Dene béré (country food) security and Dene ts'ı̨lı̨ (ways of life or cultural integrity) in the Sahtú region that promote caribou conservation?
How can a community conservation planning approach in the Sahtú region relate to other types of conservation plans and decisions about the same caribou herds in neighbouring regions?
What's Next
The SRRB has submitted the Second Report to the Minister of NWT Environment and Natural Resources on March 30, 2021. The Minister will respond to the report in 60 days.
Archive
How to find documents in this registry
Short descriptions of all documents on a topic can be found by clicking the folder links on the left. In the Documents tab, click the plus or minus button beside the folder name to open and close a folder. To sort files within a folder, click the column heading (#, Name, Added On or Last Updated On). Click on the article title to see a short description and download, or click the download link to skip the description.
Receive Notifications when this Page Changes