Doug Urquhart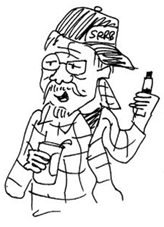 Doug Urquhart passed away suddenly in December 2015, at the age of 68. He was a gifted artist and exceptional communicator. Doug worked with the Ɂehdzo Got'ı̨nę Gots'ę́ Nákedı and Ɂehdzo Got'ı̨nę to develop an illustrated Ɂehdzo Got'ı̨nę Manual, as well as documents to guide monitoring and traditional knowledge research.
Doug started out as a "bush baby." Raised in a tent while the family home was being built, he hated the smoky taste of a milk bottle nipple warmed over a campfire. Later, his experiences canoeing, camping and building a log cabin with his parents inspired Doug to spend his life in the North. For more than 35 years, Doug worked all over northern Canada--as a prospector in northern Quebec and Ontario, biologist on the arctic islands, conservation officer in Fort Smith and Cambridge Bay, Northwest Territories, weather observer on the Yukon-NWT border, jail guard in Atlin, British Columbia, editorial cartoonist in Whitehorse, Yukon an environmental consultant in Yellowknife and the Yukon.
He was a member of the Yukon Fish and Wildlife Management Board and Chair of the Yukon Fish and Wildlife Enhancement Trust. For more than a decade, he facilitated annual Northern Tutchone May Gatherings to monitor and adjust harvesting practices for sound wildlife management.
This article from the Yukon News is a fitting tribute to Doug's life and work.