Mackenzie Valley Pipeline Proposal
In the 1960s, the Sahtu became the focus for major industrial development with the proposal of a Mackenzie Valley pipeline.
A flurry of seismic activity led to the discovery of major gas reserves at Prudhoe Bay, and subsequently beneath the North Slope of Alaska. The construction of a pipeline through Alaska was subject to delays due to environmental concerns and aboriginal claims. There was also opposition to transporting the fuel by tanker along the shores of the Pacific.
In 1967, feasibility studies were launched for a Canadian pipeline route. The pipeline would be 2,600 miles long, stretching from Alaska, across northern Yukon, then south through the Mackenzie Valley. The idea was given added impetus with the discovery of Canadian gas fields in the Beaufort Sea.
The federal government recognised that there could be legal complications in pursuing development, given that provisions of Treaty 11 remained unfulfilled. An initial offer including a financial package and promises of reserves was rejected by the Indian Brotherhood of the Northwest Territories.
In 1973, Chief Francois Paulette of the Fort Smith Chipewyan band filed a "caveat" claiming an interest in lands covering over one million square kilometres. Justice William Morrow decided the Dene case deserved to be heard. The Supreme Court reversed the decision upon appeal by the government, but the initial decision made it clear that aboriginal interests could no longer be ignored.
The Berger Inquiry from 1974-1977 investigated the "terms and conditions that should be imposed" in respect of the proposed pipeline. The Inquiry led to a moratorium on pipeline development in the Mackenzie Valley. It had a lasting impact on the people of the Sahtu in other respects. Research was initiated on aboriginal land use practices. This included the massive Dene Nation mapping project, and a variety of social and economic studies showing the significance of hunting and trapping for the communities. A layer of experienced Dene and Métis negotiators emerged in the Sahtu to lead the communities into the future.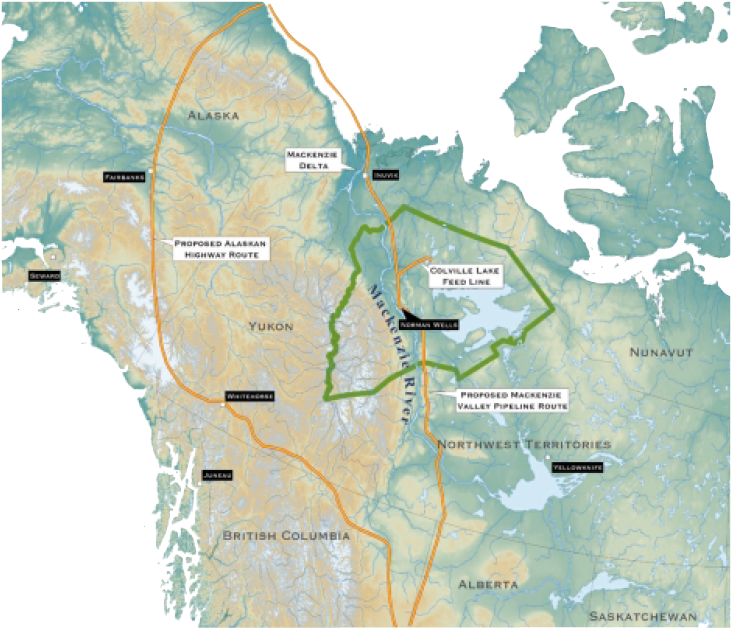 above - proposed Mackenzie Valley pipeline route and alternative Alaskan route
below - Laying the present-day Enbridge Pipeline and route map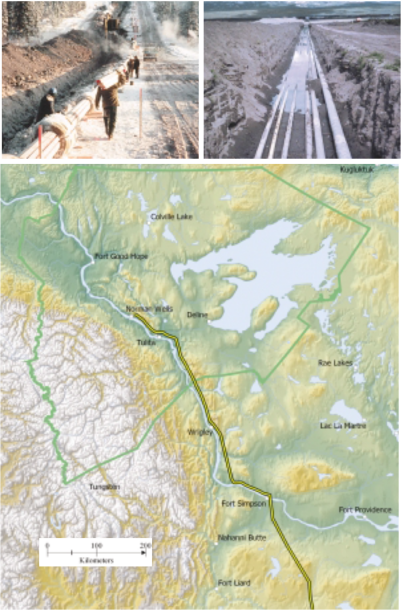 The Present Mackenzie Pipeline Route
The present Enbridge Pipeline extends approximately 870 kilometres (540 miles) between Norman Wells, Northwest Territories and Zama Alberta. From Zama, crude oil is transported through the pipeline facilities of others to Edmonton for refining.
As of July 2001, 26,000 barrels of sweet crude are shipped every day to Zama from Norman Wells along the Enbridgeowned pipeline which was completed in 1985. Because of the permafrost, it has to be cooled down to ensure that it does not melt the frozen earth and cause pipeline breaks.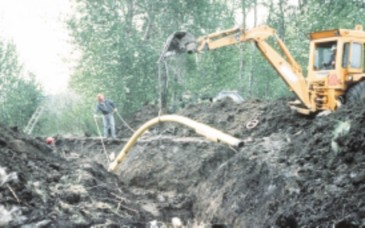 [ Sahtu Atlas Table of Contents ]
[ Next Section ]