Canol Trail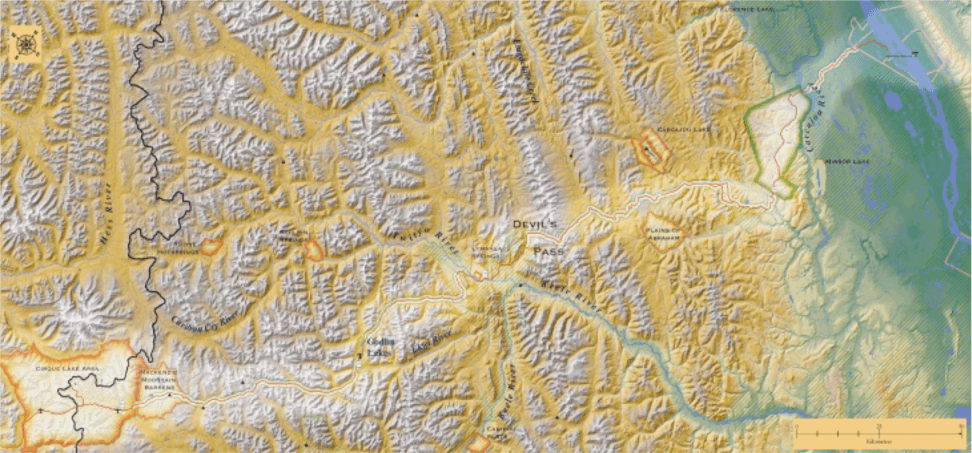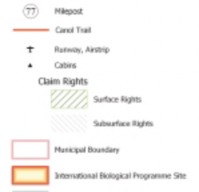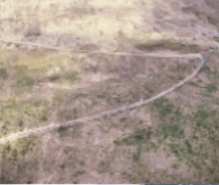 top- Trail switchback
right - Bridge remains
left - Fording river
© SLUPB
The abandoned Canol Road winds its way for 372 km from the Norman Wells oilfield, across the broad Mackenzie River valley, through several mountain ranges, over the Mackenzie Mountain Barrens and up to MacMillan Pass on the Continental Divide, before passing into the Yukon. The raised roadbed provides an opportunity to traverse many portions of the route. Landslides and washed-out bridges make some areas impossible or very difficult to ford.
The Canol Road project was conceived during World War II, when Japanese warplanes attacked petroleum installations in the Aleutian Islands of Alaska. With Pacific shipping and coastal facilities at risk, the Norman Wells oilfield became strategically importanct. Between 1942 and 1945, more than $300 million was spent, and 30,000 people were employed, to install 1600 km of telephone lines, lay 2650 km of4- and 6-inch pipe, and construct an accompanying road to provide access to the pumping stations which lifted the oil over high passes.
By the time the pipeline was completed, the Japanese had been driven from the Aleutian Islands, and the pipeline lost its importance. In April of 1945, after less than a year of operation, the entire project was abandoned. Pump engines and most pipe was salvaged, but a lot of other equipment was simply abandoned. Sixty years later, the remains of pumping stations, road camps, bridges and trucks can still be seen along the trail.
The route has recently been designated the Canol Heritage Trail, and has been given National Historic Site status.
The Government of the Northwest Territories published a 30-page Hiker's Guide to the Canol Heritage Trail. Guide contains section maps, important notes about river crossings and trail conditions, and other important information for hikers.
The booklet is available from:
Resources, Wildlife and Economic Development
Government of the Northwest Territories
Box 130, Norman Wells, NT, Canada X0E 0V0
Phone: (867) 587-3500
[ Sahtu Atlas Table of Contents ]
[ Next Section ]